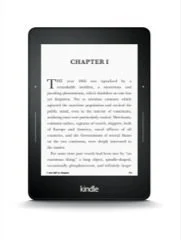 Getprice Buyer's Guide: Affordable ebook readers and small tablets for August 2017
Whether you're after a dedicated reader or a versatile tablet, Getprice put a bunch of both to the test.
Thanks to relentless technology upgrades and increasingly cheap Chinese manufacturing, it's possible to buy brand new tablets and ebook readers from around $100. With a focus on portability and reading on the go, we've put together five budget small tablets, as well as the five most affordable ebook readers. While both perform different roles, there is a lot of overlap. Of course, a dedicated reader gives a better ebook experience, but a small tablet gives access to other content, such as video and games.
The options tested all run Android, and devices such as the iPad Mini are noticeably absent, as the only way to get an 'affordable' option is to buy second hand.
In Australia, there are relatively few e-readers, and only a few flagship models fall outside our list. For small (7–8-inch) tablets, the same is true (without opting for grey imports), as larger 10-inch models are more popular. It's worth noting that while a sub-$100 tablet can be a great deal, it's not going to offer the same build quality and features of a unit four times the price.
How we tested
Ebook readers were tested by reading books purchased from the device's native store as well as third-party DRM-free books synced to the device. Tablets were tested for reading text and websites, alongside a range of other day-to-day general-computing tasks.
Kindle Paperwhite
Is it worth upgrading?
Available from just $120 – click here to compare the latest prices!

Costing an extra $70 ($179) compared to the Kindle Touch, the Paperwhite has quite a few extra features. Most importantly, it comes equipped with a backlight, which makes it possible to read without an external light source. We also find that the backlight helps make the text more readable even during the day.
The Paperwhite also has a 300dpi screen (an upgrade over the previous Paperwhite), which gives noticeably sharper text. Unlike the higher-end Kindles, the Paperwhite doesn't have a flush screen, which we find collects fluff and dirt.
Even with the backlight on fairly bright, the Paperwhite will happy run for weeks between charges. It has built in Wi-Fi, though there is a version with free worldwide 3G (for downloading books), but it costs around $70 more ($245) again. The unit measures in at 16.9 x 11.7 x 0.91cm and weighs 205 grams.
The Paperwhite is worth the extra expense for the backlight alone, but combined with the 300dpi screen, it's a great choice.
Want to know more? Check out the expert review over at our sister site TechRadar.
Kindle Touch 6-inch

​
Is basic best?
Available from just $79.95 – click here to compare prices!

Available for around $109 from retailers such as Officeworks, the new (in 2016) Kindle Touch is very affordable. The most noticeable omission is the lack of a light — in other words, reading it is just like an actual book.
The Touch also has a reduced screen resolution, with 167dpi, compared to 300dpi on the pricier Kindles. What is does have is touch control, which makes navigation and book searches a lot simpler.
The little unit measures in at 16 x 11.5 x 0.91cm (with a 6-inch screen) and weighs just 161 grams. While a sharper screen would be nice, for the price, it gives an excellent reading experience.
The Kindle has built in Wi-Fi, and the battery lasts weeks of solid use. While extra features such as a light are well worth spending more on, for a basic e-reader, it's awfully hard to argue with the Kindles low price.
Read the comprehensive review of the Kindle Touch on our sister site TechRadar.
Kobo Aura H2O
For water lovers.
Available from just $24.88 – click here to compare prices!

Books have never been waterproof, but with e-readers, it's becoming increasingly common. The Kobo Aura H2O is IP67 rated, which means it's dust- and waterproof — in other words, it can be used in the bathtub
or pool without a worry.
Despite sharing the name with the Aura, it's actually quite a different device on the hardware level. For a start, the screen is a little larger at 6.8 inches, and it has a higher 1,430 x 1,080 resolution and 265dpi. Of course, that means it's larger and heavier, at 17.9 x 12.9 x 0.97cm and 233 grams. The H2O has a built in light, 4GB of on-board memory, as well as a microSD card slot for expanding the storage. The e-reader charges from micro USB, the battery lasts weeks between charges, and it also has inbuilt Wi-Fi.
In use, the screen is excellent, with sharp, clear text and even lighting. The touchscreen makes navigation easy, though doesn't work too well if very wet. For those who want a waterproof option, the H2O is a great choice.
Kindle Voyage
A higher-end option.
Available from just $31 – click here to compare prices!

Pushing the concept of a 'cheap' e-reader, the Kindle Voyage is 2015's flagship model, now relegated to second tier. E-readers don't tend to advance quite as quick as phones or tablets, though, so it's still fairly cutting edge.
The Voyage features a 6-inch touchscreen, clad in an edgeless glass cover. It has an adaptive light built in, but we found that it tended to adjust too often and was best left off. The e-reader has a high 300dpi screen, which does looks sharper than the same resolution on cheaper models, such as the Paperwhite. It also includes hybrid touch buttons with haptic feedback, for easier page navigation.
The Voyage also has the usual built in Wi-Fi (no 3G model) and the battery will go weeks between charges. The unit weighs just 180 grams, and measures in a slim 0.76cm thick, 16.2cm tall and 15.5cm wide.
While an excellent e-reader, the Voyage still commands its original $300 launch price, which is tough to swallow compared to its cheaper brethren.
Want to know more about the Kindle Voyage before making a purchase? Head to our sister site TechRadar and check out the expert review.
Kobo Aura
Now on its second edition.
Available from just $139 – click here to compare prices!

Facing up against the e-reader competition, the Kobo Aura is un updated 6-inch unit with loads of features. Importantly, it has a light for easy reading in the dark, as well as an anti-glare screen.
The Aura uses a touchscreen, though it's not edge to edge and the bezels can be annoying. The e-reader has a 1,024 x 768 resolution, which for the size equates to 212dpi. While a little lower than the competition, the Aura screen is still quite sharp and very easy to read. The whole shebang is clad in plastic, but feels quite robust. Protective sleep covers are also available, to add an extra layer of protection.
The unit has 4GB of inbuilt memory (or around 3,000 ebooks), as well as Wi-Fi. Battery life is excellent, and the Aura will run weeks between charges — even with heavy use. The e-reader measures in at 15.9 x 11.3 x 0.85cm, and weighs 180 grams. The Kobo Aura is a solid e-reader, but faces stiff competition from the Kindle Paperwhite.
Pendo Pad 7-inch
Budget friendly.
Available from just $119 – click here to compare prices!

It's hard to go too wrong when shelling out just $99, and the Pendo Pad does not disappoint for the price. The little tablet has a 7-inch 1,280 x 800 IPS screen, which offers quite good image quality for reading, as well as other tasks. It's powered by an Allwinner A33 quad-core CPU, backed up by 1GB of RAM and 8GB of storage, expandable via microSD. The Pendo Pad runs Android 6, which is fast and smooth, yet stable. It's no performance monster, but will play most games happily, and stream video.
The tablet has a 2,500mAh battery, which gives a 6-hour battery life, which can be eked out to 9 hours when reading. The tablet has a basic but serviceable front-facing camera, as well as Wi-Fi, Bluetooth and a 3.5mm headphone jack. The Pendo Pad measures in at 18.5 x 11.6 x 0.84cm and weighs 290 grams.
The mini tablet is available from retailers such as Officeworks, but make sure to get the latest model with the 1,280 x 800 resolution screen.
Samsung Galaxy Tab A
A compact little tablet.
Available from just $108 – click here to compare prices!

Measuring it at 7 inches, the Samsung Galaxy Tab A is the perfect size for easy on-the-go use. The tablet has a 1,200 x 800 resolution touchscreen, 1.3GHz CPU, 1.5GB of RAM and 8GB of storage. It runs the older but still decent Android Lollipop (5.1.1) with Samsung's own layout over the top. It measures in at a compact 10.9 x 18.7 x 0.87cm and weighs 285 grams. Samsung has fitted the Tab A with a large 4,000mAh battery, which can handle around 9 hours of video or, in our testing, 13.5 hours reading an ebook with the screen brightness down low.
The Tab A screen is actually quite good, though not up to e-ink standards for reading in bright locations. It's also a pretty decent little tablet, and includes Wi-Fi, Bluetooth, front and rear cameras, microSD card slot and GPS. Shop around for the best price, but the Tab A costs around the same as a second tier e-reader with screen light.
Telstra Essentials Tab
A slightly larger option.
Available from just $108 – click here to compare prices!

While still very compact, the Telstra Essentials Tab features a slightly larger 8-inch screen, instead of the usual 6- or 7-inch. That does mean it's a little heftier, at 330 grams, and measures in at 20.9 x 12.5 x 0.84cm — though is still easy to use in one hand. In use, the screen is quite good, with a reasonable 1,080 x 800 resolution, and even backlighting. It's also quite responsive, and has enough grunt for smooth video playback and gaming.
The unit runs Android 5.1.1, with a Qualcomm quad-core 1.3GHz CPU, 1GB of RAM and 8GB of storage. It's also got a large 4,000mAh battery, and can easily last over 10 hours of reading with the screen brightness down low.
Where the Telstra Tab stands out, though, is the ability to take a simcard and connect to even the latest 4GX networks. Of course, it also has Wi-Fi, Bluetooth, 3.5mm audio jack and a microSD card slot, as well as front and rear cameras.
Going on holidays soon? These 5 handy travel gadgets will help maximise your trip!