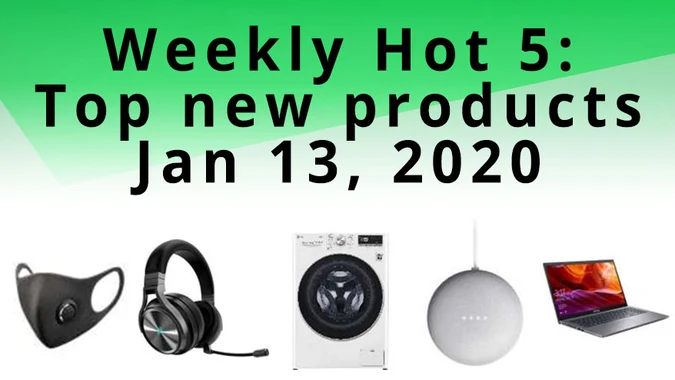 Getprice's Weekly Hot 5: Just-added trending new products
Get the low down on the top products on Getprice for January 13, 2020
Welcome to Getprice's hot new weekly round-up! Every week, we'll uncover five of the most popular products from the last 7 days to help you discover what other people are searching for and explore trending new releases.
Let's get straight to it, with five of the top products for the week of January 13th, 2020:
---
Asus D509 15-inch Laptop | AMD Ryzen 5 3500U / 8GB / 512GB
RRP: $799 | Official Asus Australia website
If you're looking for a good entry-level laptop at a decent price, the 15-inch Asus D509 looks like it could fit the bill nicely. Hosting an impressive 512GB of internal SSD storage and 8GB of RAM, this laptop isn't what we'd describe as a powerhouse, but it'll do all the basics just fine. It also features a AMD Radeon RX Vega 8 graphics card, which can handle very basic gaming. A solid all-rounder for an entry level computer.
Click here to find the best Asus D509 Laptop prices in Australia
---
Google Nest Mini Smart Speaker
RRP: $79 | Official Google product page
Move over Google Home Mini – the Google Nest Mini smart speaker is here. While it may look almost identical to its Home predecessor, the Nest Mini has an added microphone for better voice-recognition, bringing the total to three. Not only that, it offers better sound output quality and even comes with a wall mount, all for the same affordable price.
Click here to find the best Google Nest Mini prices in Australia
---
LG WV71408W 8kg Washing Machine
RRP $1,139 | Official LG product page
LG's innovative new washer uses in-built AI technology to weigh the load and assess the type of fabric and automatically select the optimal wash cycle. It also features a steam cycle to aid the removal of common allergens – perfect for individuals who may be a bit sensitive to the world around them. On top of those useful wash features, this machine also comes with ThinQ smart technology which allows you to remotely start and monitor your wash. With a dedicated smartphone app, you can also go through your previous wash cycle history, diagnose and troubleshoot issues as well as download additional wash cycles. This machine's also Google Assistant enabled, so you can shout at your smart speaker to start a wash. We can see why LG was voted Choice's 2019 best brand for front-loader washing machine.
Click here to find the best LG WV71408W prices in Australia
---
Corsair Virtuoso RGB Wireless SE Gaming Headphones
RRP $599 | Official Corsair product page
Corsair's designers are considered experts when it comes to the world of gaming headsets, and the Virtuoso RGB Wireless SE provide solid proof of that. Stepping into the premium headset market, these bad boys look sleek and impressive, with a colourful glow of RGB LED lighting.
These headphones have a frequency range of 20Hz to 40,000Hz so they can reproduce a much broader soundscape than most other gaming headsets – and even let you hear things you'd otherwise miss. Meanwhile, positional 7.1 surround sound will immerse you in the middle of action, and you'll be enjoying that sound in comfort too, with luxurious memory foam earpads that conform to the shape of your head and ears. The final piece of the puzzle is a broadcast-grade detachable microphone allowing for clear communication with your teammates. This headset is a true tour de force from Corsair – and a pair that our colleagues at PC Gamer recommend as of the best options if you're in the market for wireless gaming headphones.
Click here to find the best Cosair Virtuoso SE prices in Australia
---
Xiaomi Smartmi Anti-Pollution Air Sport Face Mask
RRP: Not specified by manufacturer | Official Xiaomi website
All of the particulate matter in the air these days can certainly be concerning, especially for anyone with allergies, but with the Xiaomi Smartmi Anti-Pollution Air Sport Face Mask you can breathe easy. With many Australian cities currently shrouded in bushfire smoke, it's easy to see why these are on our list of trending products, . This mask efficiently blocks dust, and the nano-fibre electret filtering technology is able to achieve Pm2.5 filtration efficiency of up to 97%. Face masks are basically useless if not fitted correctly, but that shouldn't be a problem here thanks to an adjustable strap. Coming in a pack of three, this could be a must-have item for anyone with breathing problems and dealing with the excessive smoke.
Click here to find the best Xiaomi Smartmi Anti-Pollution Air Sport Face Mask prices in Australia