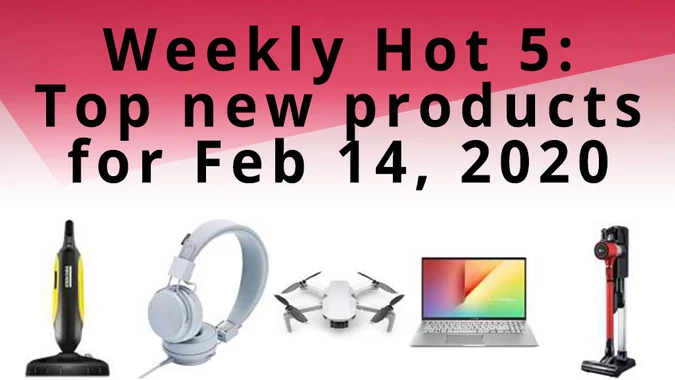 Getprice's Weekly Hot 5 for Feb 14, 2020
Welcome to Getprice's regular weekly round-up of trending products! We've listed what themost popular products that Getprice users have searched for this week across all categories, from tech to household appliances and more.
Check out the top products for the week of February 14, 2020:
---
DJI Mavic Mini Drone
RRP: $599 | Official DJI product page
Nowadays every man and his dog is a camera enthusiast, but if you're serious about your photography hobby, drones are becoming a must-have item in the digital-art world (apart from your camera of course). Introducing the DJI Mavic Mini – this beauty is smooth, fast, easily controlled and ridiculously small. It shoots incredible 2.7K video and an astounding 12mp snaps, all at a affordable price. The DJI Mavic Mini has been given T3's platinum award and voted 5 out of 5 in its review, so it's safe to say that the Mavic Mini is a good choice if you're looking for a drone to shoot overhead shots or videos to expand your film portfolio.
Click here to find the best DJI Mavic Mini Drone prices in Australia
---
Asus VivoBook S15 S531 15 inch Laptop
RRP: $1,299 | Official Asus product page
Another highly regarded contender has entered the top 5 this week – the Asus VivoBook S15 (S532F). It's one of the most portable 15-inch laptops you can find with its slimline design and ultralight weight of 1.8kg. Rated 4.5 out of 5 by our friends at TechRadar, this VivoBook packs a powerful i7 processor, 8GB of RAM and 512GB of storage. If you're in the market for a portable, large screen laptop that won't break the bank, the Asus VivoBook is a great all-rounder that would be suited for home or the office.
Click here to find the best Asus VivoBook prices in Australia
---
LG A9MULTI2X Cordless Vacuum
RRP: $884 | Official LG product page
It's not a Dyson but this vacuum from LG promises a powerful performance that will deliver excellent results with the help of its flow vacuum technology. When the LG stick is kicked into 'turbo mode' it is said to deliver up to an incredible 140W of suction power, capable of vacuuming up dust, hair and allergens from your floor. It also promises up to 40-minutes of battery life during regular use and 6-minutes on 'turbo mode' – that is on par with Dyson's V10. If you're wanting to steer away from the crowd and try another contender in the cordless vac market, the LG looks to be a tempting option.
Click here to find the best LG Cordless Vacuum prices in Australia
---
Karcher VC5 Premium Handheld Vacuum
RRP: $299 | Official Karcher product page
Another vacuum that has made the list this week – the Karcher VC5 Premium. This handheld vac is a middle of the range machine and would suit the more budget conscious. You won't have the freedom that a cordless vacuum provides, however there is no clunky unit you're dragging around behind you. At 3.2kg, the Karcher VC5 is also extremely lightweight. Packing a 500W motor with an A-rated energy efficiency, this cleaner has as much suction power as some fully-sized cylinder vacuums. This makes this Karcher VC5 a great option for those who can't splash out the cash on a cordless vac but still want the ease and effectiveness of their stick design.
Click here to find the best Karcher VC5 prices in Australia
---
Urbanears Plattan 2 Bluetooth Headphones
RRP: $149.99 | Official Urbanears product page
One of the more affordable wireless headphones, the Urbanears Plattan 2 have made the list this week. With an exceptional battery life and good sound, you'll be able to enjoy your favourite tunes for hours without needing to recharge. Our mates at TechRadar have conducted a review of these nifty head cans, rating them a 3.5 out of 5. Where they take a hit is with their wireless connectivity, with some experiencing drop-outs in high density areas. However, it is a pretty decent rating and they are currently priced around the AU$70 mark, which ain't bad if you're looking around the market for some ample wireless headphones with a sensitive pocket.
Click here to find the best Urbanears Plattan 2 prices in Australia