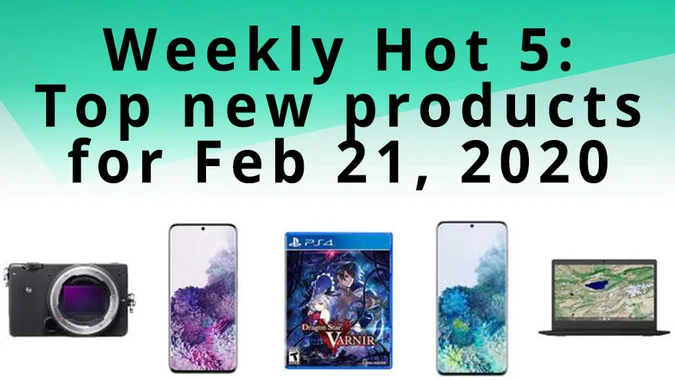 Getprice's Weekly Hot 5 for Feb 21, 2020
Welcome to Getprice's regular weekly round-up of trending products! We've listed the most popular products that Getprice users have searched for this week across all categories, from tech to gaming and more.
Check out the top products for the week of February 21, 2020:
---
Samsung S20 and S20 Plus 5G mobile
S20 RRP: AU$1,349 | Official Samsung product page
S20 Plus RRP: AU$1,499 | Official Samsung product page
The Samsung S20 and S20 Plus launch has been anticipated for months now, and finally Samsung has confirmed the new Galaxy range will be coming to our shores on March 6.
We suspect that the excitement surrounding the launch of the S20 Galaxy range is what has landed these two smartphones on our most popular list this week.
Both phones have been kitted-out with Samsung's new top-of-the-range processor – the Exynos 990 – as well as being available with either 8GB or 12GB of RAM.
Another cool feature is both devices have been given an IP68 rating, meaning these phones have been deemed fit enough to withstand not only dust, dirt and sand but are resistant to submersion in water up to a maximum depth of 1.5m for up to 30-minutes.
There are a couple of differences between the two Galaxy S20 models as we have listed them below for you:
Price
S20 Plus will cost you an extra AU$160 at checkout
Battery
The S20 Plus has a slighter larger battery at 4,500mAh than its smaller sibling at 4000mAh
Screen size
The S20 plus is a large 6.7-inches, whilst the S20 is still impressive at 6.2-inches
Storage
S20 Plus has a 512GB storage option vs a max of 128GB on the S20
Camera
Both phones have mostly the same camera features: a 12MP primary senor, a 64MP telephoto lens capable of 3x hybrid-optical zoom, and a 12MP ultra-wide angle lens. The only difference is that S20 Plus has a Time-of-Flight sensor for sensing depth.
Although these smartphones are not available as yet, you can pre-order to secure your newest Galaxy to have it ready for collection in-store or delivered to your door by clicking on the following links:
Click here to find the best Samsung Galaxy S20 prices in Australia
Click here to find the best Samsung Galaxy S20 Plus prices in Australia
---
Sigma FP digital camera
RRP: AU$2,999 | Official Sigma product page
Weighing only 370g, the Sigma FP is the world's smallest full-frame mirrorless camera – it's pocket sized and has a load of accessories to boost photo and video quality. This small, lightweight and compact camera has a weather-proof body, full-range sensor and a high ISO range. Our friends at TechRadar rated the Sigma FP 4 out of 5 stars in their review, observing the camera's impressive 4K video performance and sharp, vivid picture quality.
Click here to find the best Sigma FP prices in Australia
---
Lenovo Chromebook S340 14-inch laptop
RRP: AU$499 | Official Lenovo product page
The Lenovo Chromebook S340 is an excellent choice for those wanting a laptop on a budget. The S340 is an entry level device so its performance is limited to basics tasks, however, with an Intel Celeron N4000 processor, 4GB RAM, 64GB of storage and a long-lasting battery life, the Lenovo Chromebook S340 is one of the best small laptops around for its price.
Click here to find the best Lenovo Chromebook S340 prices in Australia
---
Idea Factory Dragon Start Varnir PC game
RRP: AU$88 | Official Idea Factory product
Released in October 2018, this game is still popular among the gaming community, and why wouldn't it be? Fight in 3-tiered battles, devour your enemies, and customize your characters to spar with dragons and defeat a harrowing curse in this epic role-playing video game.
Click here to find the best Dragon Start Varnir PC prices in Australia