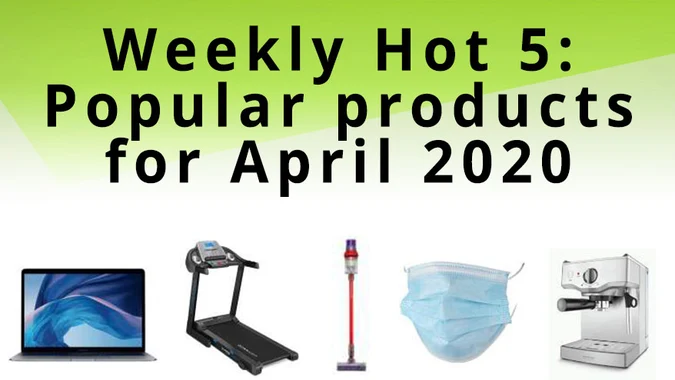 Getprice's Weekly Hot 5 for April 24, 2020
Welcome to Getprice's regular weekly round-up of trending products! We've listed the most popular products that Getprice users have searched for this week across multiple categories.
Check out the top products for the week of April 24, 2020:
---
Lifespan Fitness TMPURSUIT2 Pursuit Treadmill
RRP: AU$789 | Official Lifespan product page
First off the rank is the Lifespan Fitness Pursuit treadmill! It's been just over a month since we've been in lockdown – and some of our waist-lines are starting to show how much little movement we've done – so it comes as no surprise that an exercise machine is on our list this week. This particular treadmill has an impressive max speed of 12km/h and is compatible with Lifespan Fitness FitLink app which allows you to control the treadmill through your phone and keep track of your workouts. Although this machine is now sold-out, there are plenty more treadmill options on our online store.
Click here to find the best Treadmill prices in Australia
---
Apple MacBook Air 13 inch Laptop
RRP: AU$1,999 | Official Apple product page
When buying a laptop, Apple is known to be a safe bet. The Apple MacBook Air is the featherweight champion, weighing only 1.27kg. This MacBook also offers fantastic battery life, an appealing design and an amazing screen. There are various models available, though 2020's models are especially well-regarded. You can find them on our website.
Click here to find the best Apple MacBook Air prices in Australia
---
Dyson Cyclone V10 Motorhead Cordless Vacuum
RRP: AU$899 | Official Dyson product page
Instead of catching the virus that has been lingering around the world, some of us have caught the cleaning bug and decided to go on a disinfecting frenzy. This would explain why the Dyson Cyclone V10 is on our list this week - this cordless vac is iconic, with a powerful suction that lasts up to 60-minutes. The Dyson Cyclone V10 is also modular by design, meaning you can use it as a stick vacuum or remove the wand from the main compartment to turn it into a helpful handheld unit. Certainly a great piece of machinery to have around the house to help you with your chores.
Click here to find the best Dyson Cyclone V10 prices in Australia
---
Disposable Surgical Face Masks
Various products, quantity and sizes
It comes as no one's surprise that surgical face masks are on the list this week – taking preventative measures to protect yourself from the virus is a wise decision. Your everyday disposable face masks normally offer three layers of protection and often come in multipacks which carry anywhere from 10-200 pieces. If you're worried about stepping outside but need to grab those essential items, one of these will put your mind at ease. Click the link below to browse the wide range of face masks that we have available:
Click here to find the best Disposable Surgical Face Mask prices in Australia
---
Breville Cafe Venezia Espresso Machine - BES250BSS
RRP: AU$249.95 | Official Breville product page
And last but certainly not least is the Breville Cafe Venezia espresso machine – with countless Australians now working from home, it appears that instant coffee isn't cutting the mustard anymore. This coffee machine won't take up too much space as it's compact in design which is great if you've got a small kitchen (or not a lot of space to work with). It also has a temperature control system and a 15 bar Italian pump with dual wall filters which makes a smooth, thicker and richer crema. An affordable coffee machine that will make the perfect hot cuppa from the comfort of your home.
Click here to find the best Breville Cafe Venezia prices in Australia