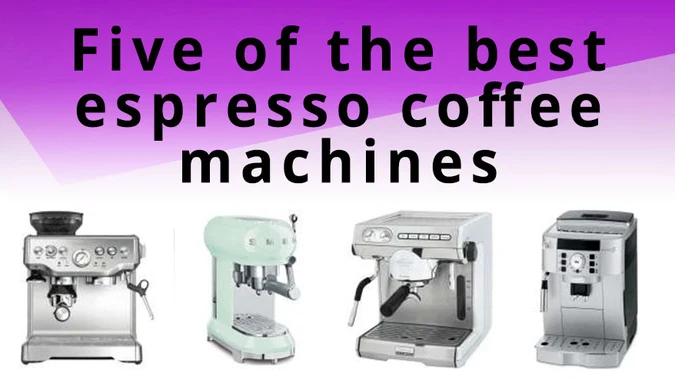 Which espresso coffee machine? The most popular models in Australia for 2019
Getprice reveals Australia's most-wanted espresso coffee machines. Find the best model for your needs here!
If you're in the market for a coffee machine, there are several major brands to choose from in Australia. The most popular include Breville, Delonghi and Sunbeam, but more niche brands like Smeg are also readily available. If you want a coffee machine with pods (ie, one that uses coffee capsules purchased direct from supermarket shelves), there are several Nespresso brands to choose from as well. The market is lousy with options, so it's easy to become confused.
The most popular machines are manual, or semi-automated: unlike the coffee capsule Nespresso machines, these require manual handling of coffee grinding (unless it's built in!) and, sometimes, a little bit of know-how concerning the flow of coffee. Some machines will measure the flow of coffee automatically, but some users prefer to determine this themselves. Our selections, bar one Nespresso unit, tend to be variations of semi-automatic devices.
Below is a list of five of the most popular coffee machines, according to our internal data. Most are mid-range, but it's important to consider what you want from a coffee machine before making a purchase. Do you want a coffee machine with grinder in-built? And do you want this grinder to be adjustable? Do you want to make two coffees at once, and do you want to be able to adjust the taste and strength of your coffee?
These are the most pressing questions, though you may also want to get more specific: do you want the built-in water tank to deliver filtered water that can purify your brew? And on the matter of the grinder, these come in two main varieties: the burr grinder or a blade grinder. The former simply cuts your coffee into pieces with a blade, and the ensuing heat can affect the taste. A burr grinder tends to be more expensive, but doesn't generate as much heat and therefore, has less effect on the taste.
Of course, the most important factor is the quality of the ensuing coffee. This usually relies on whether the machine is being handled correctly and the quality of the coffee beans. Capsule coffee machines are perfectly sufficient for many, but many more prefer a more hands-on approach, as they have more power over the resulting brew. Most coffee machines come with a soft learning curve, but once this is surmounted it'll be well and truly time to ditch the instant coffee entirely.
That said, if its pure convenience and minimal mess you're after, a capsule machine will likely be most appealing: a coffee can be made in mere seconds, depending on the machine, whereas an average espresso machine will normally take a few minutes, from the moment you grind the coffee until the moment the milk is adequately warmed and frothed.
Without further ado, below are five of the most-popular coffee machines in Australia in 2019, according to search popularity on Getprice.com.au.
---
BREVILLE BARISTA EXPRESS BES870
RRP: $949.95 | More info: Official Breville product page
This mid-range espresso machine is the most popular on Get Price, and it's easy to determine why: from grinding to milk frothing, the unit comes with everything you need short of actual coffee beans. The grinder boasts "dose-control", meaning it'll grind the precise amount of coffee into your wand, whether single or double shot, and it uses digital temperature control to ensure your beans are being squeezed for all they're worth. The steam wand is perfect for generating micro-foam (handy for the latte artisans out there), but generally speaking, this is a machine for people who want cafe-quality coffee at home, but don't want too much hassle involved.
Compare prices for the Breville Barista Express BES870
---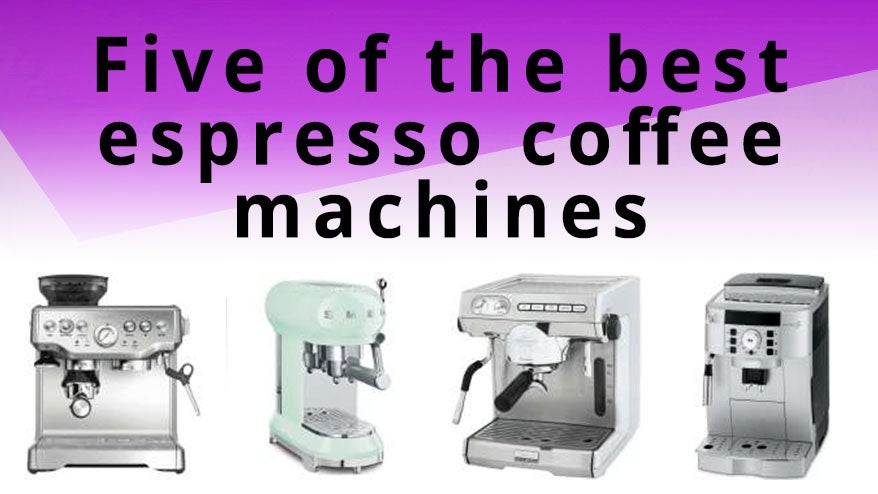 SUNBEAM EM7000
RRP: $899 | More info: Official Sunbeam product page
This popular Sunbeam has all the home espresso features you'd expect: a milk frother, a wand with both single and double shot floor filters, and a gauge that indicates the optimum temperature for your milk, as well as the coffee pressure. It boasts "thermoblock technology" which helps heat up the unit's water much quicker than, for example, a standard fare electric jug. Constructed with die-cast metal and stainless steel housing, it comes with a cup warming tray and a three litre water compartment. It may lack of grinder, but this will be a bonus for coffee enthusiasts who want a more specific type of grind than is usually offered built-in on an espresso machine.
Compare prices for the Sunbeam EM7000
---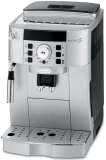 DELONGHI MAGNIFICA S ECAM 22.110.SB
RRP: $899 | More info: Official DeLonghi product page
This stylish and compact espresso machine is loaded with features: you wouldn't know it at a glance, but the Magnifica S has a coffee grinder secreted in the back, with conical steel grinders and easily adjustable grinding levels. It also uses a tubeless system designed to eliminate remnant coffee powder, resulting in a fresher taste. This machine is especially good for anyone not wanting to deal with wands: it supports both single and double shots, and two singles can be made at the same time. It comes boasting a milk frother, and its heating system focuses on temperature precision. The trip dray can also be removed and thrown into the dishwasher, making this machine a fairly low-maintenance proposition.
Compare prices for the DeLonghi Magnifica S ECAM 22.110.SB
---
SMEG ECF01CRAU
RRP: $499 | More info: Official Smeg product page
Smeg is a respected Italian brand, and their products tend to be very high-end. That said, this minimalist, 1950s styled coffee machine is not only aesthetically pleasing, but it's quite affordable. What you get is three filter types - 1 cup, 2 cups and paper pods - and a one litre water tank, which can be fitted with an included water filter. It has an anti-drip system as well as a metal milk frothing lever. You'll only be pumping out one cup of coffee at a time with this model, as its clearly designed for the space (and fashion) conscious. That said, Smeg manages to fit a fully-featured coffee machine into a very narrow footprint, and all you'll need to buy is a coffee grinding to sit alongside.
Compare Australian prices for the Smeg ECF01CRAU
---
BREVILLE NESPRESSO CREATISTA PLUS BNE800BSS
RRP: $799 | More info: Official Nespresso product page
Pod coffee machines, aka Nespresso machines, are of enduring popularity, and this model is among the most popular on Get Price. Using coffee capsules purchased separately, this is really all about convenience: it has a three second heat up time, and it's possible to choose between 11 milk temperatures and eight different texture types. It can fit between eight and twelve capsules at a time (depending on their size), and all of these options are selectable on the unit's top interface. If you're as space conscious as you are time conscious, this machine is 40cm deep and 17cm wide: quite small by the measure of espresso machines.
Get the lowest price on the Nespresso BNE800BSS
This is a test
Of bullet point lists
Do they show up bolded on the site?
And now we're doing numbers
Which seem to be bolded text in the CMS
But the number is unbolded