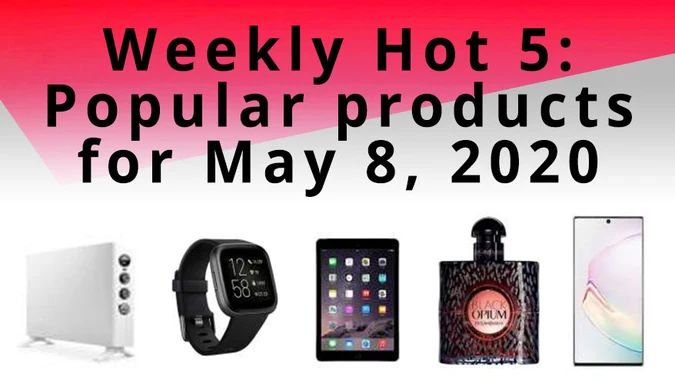 Getprice's Weekly Hot 5 for May 8, 2020
Welcome to Getprice's regular weekly round-up of trending products! We've listed the most popular products that Getprice users have searched for this week across multiple categories.
Check out the top products for the week of May 8, 2020:
---
Apple iPad Air 2 (9.7 inch) Tablet
RRP: AU$779 | Official Apple product page
Number one on our list is the Apple iPad Air 2 – we assume this is because there are a number of children in lockdown who need to be entertained to give their parents a much needed break. Rated 5/5 by our friends at TechRadar, this tablet is one of the best on the market – the combination of power, better screen, improved design and upgraded OS make this a tablet a very compelling device. Click the link below to find the best deals on the Apple iPad Air 2:
Click here to find the best Apple iPad Air 2 prices in Australia
---
Samsung Galaxy Note 10 Plus Mobile Phone
RRP: AU$1,699 | Official product page
Retailers are continuing to offer amazing deals on the Samsung Galaxy Note 10 Plus so it comes asto no surprise that it's landed on our top 5 this week. What's 'Plus' about this smartphone compared to its regular counterpart is its ginormous 6.8-inch QHD+ screen, 12GB of RAM, a microSD slot and a larger battery, making this impressive handset one of the best that's currently available.
You can find this amazing smartphone with up to 18% off the RPP through our online store by clicking the link below:
Click here to find the best Samsung Galaxy Note 10 Plus prices in Australia
---
Delonghi Slim Style Convector Heater HSX 3324FTS
RRP: AU$158.99 | Official Delonghi product page
The beginning of Autumn has brought on the chilly weather – the mornings are crisp and the usual "how cold is it"?!" conversations are starting to sweep through our daily interactions. To combat those frosty mornings and freezing temperatures, people have begun to purchase heaters – and more specifically, the Delonghi Slim Style convector heater which has landed at third place on our list this week. This heater can hastily heat up a 70m3 room (perfect for almost any enclosed home space), has a nifty boost heating function thanks to the inclusion of a lateral fan system and has a built-in safety feature which automatically switches off the unit if it tips over.
Click here to find the best Delonghi Heater prices in Australia
---
Fitbit Versa 2
RRP: AU$329.95 | Official Fitbit product page
We continually see fitness wearables on our list's every week, and for good reason. These nifty smart-watches help you achieve your fitness goals and monitor your health – something that is on everyone's minds thanks to the incessant binge-eating brought on by 'Big-Rona'.
The Fitbit Versa 2 is a popular choice amongst the selection of fitness wearables – with this watch you'll be on top of your game thanks to its light-weight design, health tracking must-haves and added smartwatch perks – including Alexa – built-in. It doesn't include built-in GPS, but at the moment does it really matter?
Click here to find the best Fitbit Versa 2 prices in Australia
---
Yves Saint Laurent Black Opium Wild Edition Women's Perfume
RRP: AU$225 | Official Yves product page
Last but not least, Yves Saint Laurent Black Opium (Wild Edition) perfume for women – a perfect Mother's Day gift. This bottle of eau de parfum is as eleganteloquent as it sounds – with addictive black coffee notes combined with the scent of white flowers and orange blossom, this uniquely feminie perfume is sure to provide a lovely aroma that would put a spring in her step. Click the link below to find all the best prices on this prized perfume:
Click here to find the best Yves Saint Laurent prices in Australia