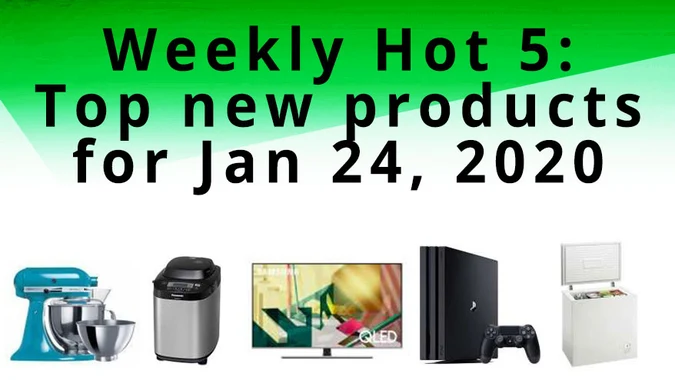 Getprice Top 5 - June 05, 2020
Welcome to Getprice's regular weekly round-up of trending products! We've listed the most popular products that Getprice users have searched for this week across multiple categories.
Check out the top products for the week of June 5, 2020:
---
Westinghouse WCM2000WD 200L Chest Freezer
RRP: Unavailable | Official Westinghouse product page
First off the rank is the Westinghouse WCM2000WD chest freezer – with a large 200L capacity, this freezer is perfect for storing your meats, homemade soups and veggies. It features a spring-loaded lid, defrost drain system and an adjustable thermostat so you can change the temperature based on the produce and products you are storing.
Available in white, the Westinghouse WCM2000WD 200L Chest Freezer measures 980mm in width, 825mm in height and 560mm in depth, and has a 3-star energy rating.
Click here to find the best Westinghouse Chest Freezer prices in Australia
---
PlayStation4 Pro 1TB Console (Black)
RRP: AU$399.99 | Official PlayStation product page
With the highly anticipated release of Sony's PS5 drawing closer, we are starting to see prices drop for current PlayStation models – more specifically, the PS4 Pro. Sony's current flagship console offers Ultra HD gameplay and HDR support, making it a great option for those who want to push their 4K TVs to the next level. This powerful machine is also packed with a 1TB hard drive that will give you plenty of room to store and expand your gaming library.
Click here to find the best PlayStation4 Pro prices in Australia
---
Samsung Series 6 75-inch Q60 QLED 4K TV
RRP: AU$4,199 | Official product page
If you're serious about TVs, the Samsung Series 6 75-inch QLED 4K TV will up your technological game. On this massive screen, you'll be entertained by the bright and vivid quantum dot colours and be treated to Samsung's intelligent mode which adjusts the picture and volume to suit your room environment. And, when you're not using it, you can even change the screen to a beautiful Ambient Mode that's sure to impress your friends at your next gathering.
Click here to find the best Samsung Series 6 75-inch Q6 prices in Australia
---
Panasonic SD-2501 Bread Maker
RRP: AU$379 | Official Panasonic product page
This bread maker may not be as good as the Panasonic SD-ZB2512, but it's more affordable and is still able to produce one good loaf! Some features of this impressive machine include a tray to ensure any yeast is not added before it's ready and a dispenser that adds fruit and seeds of your choice. The SD-2501 bread maker is also capable of producing three sizes of loaf, as well as jam – impressive and convenient for the at-home baker.
Click here to find the best Panasonic Bread Maker prices in Australia
---
KitchenAid KSM160 Artisan Mixer
RRP: AU$949 | Official KitchenAid product page
Last but not least is the glamorous KitchenAid Artisan Mixer. It is a well known fact that KitchenAid appliances don't come cheap but the quality of this product is second to none. Made to perform and built to last, the KitchenAid KSM160 is designed with a planetary mixing action that ensures all your ingredients are thoroughly incorporated. Not only does it mix, this device comes with an attachment hub that can transform it into a pasta maker, food grinder, vegetable slicer and much more making this a truly versatile piece of equipment that is essential to any home chef's repertoire.
Click here to find the best KitchenAid KSM160 prices in Australia
---
Discover more great prices on all these products and more on our homepage