THIS NANOLEAF SHAPES TRIANGLES DISCOUNT WILL LIGHT UP YOUR HOME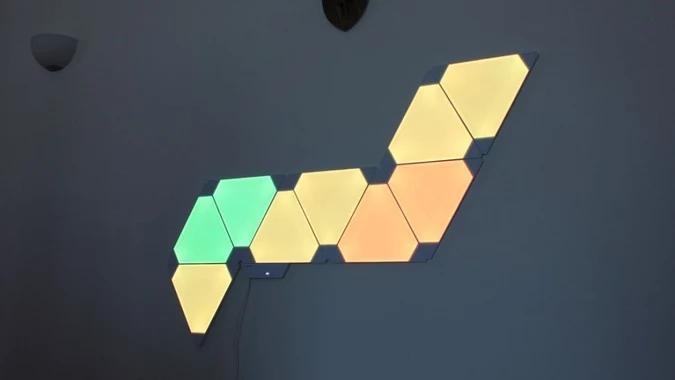 Many of you might have heard of smart lights by now even if you haven't considered it for your own home. While smart bulbs are slowly catching on, did you know you could light up plain ol' boring walls with modular smart lights so they come alive? And one company making waves in this sector is Nanoleaf.
Having started life as a crowdfunded undertaking, Nanoleaf now has a handful of modular smart lights under its belt, along with a smart bulb and smart light strip in its Essentials range. But it's the modular panels that are striking, coming in starter kits with a set number of panels that you can arrange any way you want and watch your walls light up in the best way possible.
The Nanoleaf Shapes are the last 'panel' set from Nanoleaf, having launched in 2020. There are three shapes to choose from – Hexagons, Triangles and Mini Triangles – and they can all be mixed and matched in creative ways if you wish. These decorative wall lights are not just visually very striking, but are remarkably easy to set up.
With support for 16 million colours, you can set up mood lighting in any room you choose, or get the lights to dance to music when you're in the mood to party. Each panel is also touch sensitive – just touch one and the colour effects will change for a short time, or you can play games on them like Whack-a-Mole or PacMan, available to download from the Nanoleaf Smarter Series companion app. These app-controlled light panels from Nanoleaf will instantly elevate the aesthetic appeal of your room.
In fact, your home's light setup can have a direct impact on your mood, circadian rhythms and sleep patterns. The Nanoleaf Shapes can help with them all. Several light 'scenes' are available on the app to set the mood, you can set up schedules for the lights to come and switch off, even select which scene you'd like to display when they automatically switch on. They can even be controlled with voice assistants.
Usually smart home technology comes with a hefty price tag, and feature-packed modular lights like the Nanoleaf Shapes are no exception. The Nanoleaf Shapes retail for $349 for the 9-pack starter kit, but consider this your lucky day as you don't have to fork out a fortune on this modern technology. eBay is currently offering this at an all-time low price along with free postage.
---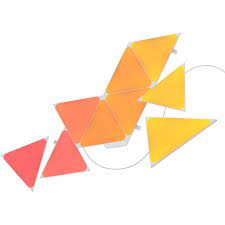 Nanoleaf Shapes Triangles (9pc starter kit) | $140.50 on eBay (save $208.50)
Create ambiance or just have some fun by adding some topnotch modular lights to your walls for a fraction of the RRP. These app-controlled lighting panels are bright enough to illuminate a whole room with a luminous flex of 80 lumens per panel. With an average lifetime of 25,000 hours, these triangles are here for the long haul. The customisable RGB light panels offer support for 16 million colour choices in interesting scenes to choose from. These panels can also respond to music. The starter kit comes with nine wall-mountable tiles that use double sided tape. Nanoleaf also provides you with linkers for connecting panels in order to create cool designs.
---
These panels are ready for use straight out of the box thanks to physical buttons on the control panel, but you will need to connect via Wi-Fi and use the app if you're after all the extra features. They are fairly easy to install and don't need sophisticated mounts – in fact, they use a variation of the no-damage-to-walls 3M Command strips. The set comes with clear instructions on how to attach them to your walls and the app's Layout Assistant will help you come up with cool modular designs.
Nanoleaf's desktop app will allow you to also set up screen mirroring, so the displayed lights match what's happening on screen. It works with a TV too, although only when the video is being streamed on the computer with the app set up and being cast to the bigger screen.
So go on, grab the Nanoleaf Shapes Triangles for a fraction of the price and jazz up those walls.